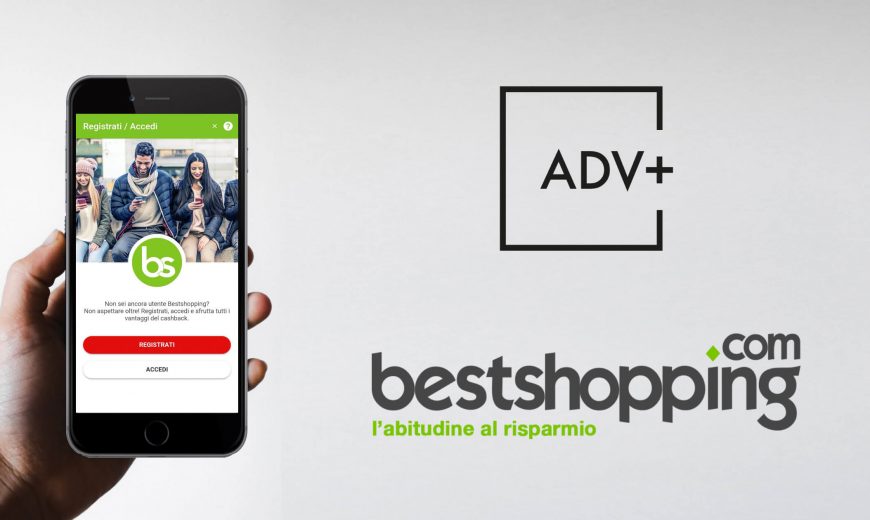 There are more than 12,000 installations of the app and more than 400,000 Italians using Bestshopping to shop online and benefit from the savings guaranteed by this cashback platform.
The system is very simple: for every purchase made at one of the more than 1500 participating shops, that site pays the cashback platform a percentage of the purchase. Percentage that Bestshopping returns largely to the user in the form of a refund. No tricks and no deceptions, the gain is for everyone:
For those who buy, who buys as he has always done and in addition accumulates refunds in euros, continuing to take advantage of any discounts and promotions made by the affiliated seller. Those who mature the refunds can then decide whether to receive them by bank transfer, via PayPal or as vouchers.
For the destination site that increases e-commerce traffic.
For Bestshopping thanks to the growing number of people using its platform to shop.
However, while in the USA and other European Union countries, this buying practice is widespread and appreciated, in Italy it is still little known and is still associated with controversial and often illegal sales and marketing systems.
Through a series of effective Facebook campaigns we not only encouraged the installation of the app and created a community of regular Bestshopping users, but we helped to dispel this prejudice. We told how simple, completely safe and legal the cashback system offered by Bestshopping is. And we did it mainly through videos of a few seconds distributed on Facebook and Instagram.
Follow us to find out what strategies we have developed to improve the knowledge and increase the use of this platform. But first let's get to know Bestshopping better.
Who is Bestshopping
The first cashback site in Italy
The habit of saving, with this payoff Bestshopping presents itself, perfectly describing its more than ten years of commitment in providing saving tools to Italians, one of the most savvy people in the world, but not yet fully aware of the possibilities offered by cashback. An easy and fast way to save on the expenses you are already used to doing on the Internet by accumulating euros with cashback.
In 2007, after years of experience as a business developer in Yahoo!, Alessandro Bonzi and Nicolò Soldani, decided to launch Bestshopping.com a price comparator that would soon become the first cashback system in Italy.
Since about two years Bestshopping is also a free app, now downloaded and used by more than 12.000 people, who have enthusiastically welcomed the cashback at palm's reach.
Simplicity of use, reliability and extra convenience have allowed this made in Italy project to become the reference point of reference for cashback in our country and to reach excellent numbers: 5 million euros saved on spending, 400.000 users, 1500 shops with special agreements, 33.0000 certified opinions on the shops, more than 20.000 compared prices, the possibility to book saving in more than 2 million hotels.
The role of Facebook and Instagram
How we optimized Bestshopping's social media strategy
Since the Bestshopping app has existed, Facebook and Instagram have been the main channels of contact acquisition and have represented a big slice of the promotional investment on the web. The activity of ADV+ is part of this increase in the strategic importance of social networks for Bestshopping.
The social advertising strategy for Facebook and Instagram, which we set up in autumn 2019 and which already achieved excellent results within 3 months, focused on three objectives:
Creating awareness about the cashback system in Italy.
Increase campaign conversion rates in terms of both downloading the APP and using the cashback system.
Create a more aware and loyal Bestshopper community.
Create awareness of the cashback system in Italy
In this challenge we made extensive use of very short videos and stories, a form of creativity, the video one, particularly useful to make the cashback story as usable, pleasant and understandable as possible.
We have thus created a series of campaigns of awareness and video display aimed at explaining how the Bestshopping app works and how to refund, focusing on extreme clarity and transparency to overcome the prejudice of Italians towards this online purchasing system.
Increase campaign conversion rates
Bestshopping counts more than 1,500 partner stores, including the most famous marketplaces and brands. The products that can be purchased by accumulating credits through its platform are the most varied: clothes, shoes, beauty products, travel, telephony, furniture, sports, technology. It is clear that the audiences of our campaigns are equally countless.
That's why, in addition to awareness campaigns aimed at making cashback and Bestshopping known, we have added specific conversion campaigns for the main product categories.
Leveraging the action analysis and tracking systems in the app, such as the SDK of Facebook, we have segmented audiences in a painstaking way and worked on creativity aimed at particular product categories and audiences, trying to match the interests and behaviors of the users of the Bestshopping App with the most suitable product.
During the months of lockdown for Covid-19 this strategy was developed to meet the new needs of people at home.
The campaigns focused on the most useful product categories at that precise moment in history: shopping vouchers, pharmacies, pet products, DIY, electronics.
Create a Bestshopper community and maintain it over time
Another aspect of fundamental importance for us at ADV+ has been the work of building a strong and loyal user community.
That's why we focused much of our advertising activity on creating a sense of community that fully understands the particularity and convenience of Bestshopping.
The main challenge was not so much to increase the number of app installations, thus lowering the acquisition costs of each lead, but above all to create a buying habit through the Bestshopping app . In fact, creating a community of regular bestshoppers.
This goal was also the basis of the decision to humanize more the creativity used in our campaigns, moving from illustrations to photographs and videos of real people.
This allowed us to represent not only specific groups of Bestshoppers. Such as young people away from home who no longer have to choose whether to take gifts or a ticket home for Christmas.
As well as fashion victims during sales. But in general it gave us the opportunity to bring together such a segmented audience under the common trait of saving and smart shopping.
Bestshopping says about us
"The collaboration with ADV+ has been a crescendo of information exchanges that have gradually strengthened the service and performance of the campaigns. Great professionalism and availability have been the most appreciated features."
Nicolò Soldani – Bestshopping Cofounder & Chief Executive Officer
Let's write the next success story together
Contact us through the dedicated page or fill out the form with your request.