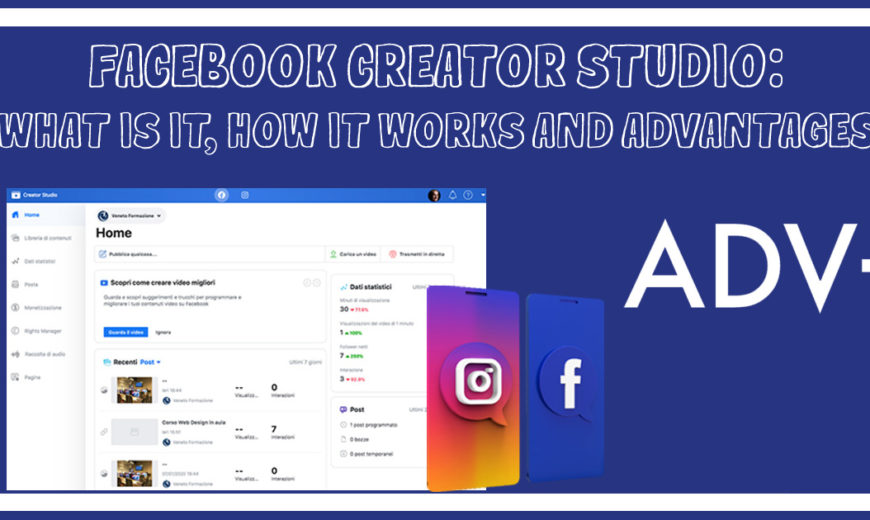 Facebook is launching a new feature, called Shops, which allows companies to create shops on Facebook, Instagram and possibly Messenger and WhatsApp.
Although powered by third party services, such as Shopify, the Facebook Shops effectively transform Facebook into a complete e-commerce platform where you can sell your products to all the people who use Facebook and who will browse your brand page.
In this article we will look specifically at what Facebook Shops is, how it works and what are the advantages you can get from using it.
What is Facebook Shops
Facebook Shops has been intended by Facebook as a new digital showcase for the sale of products by companies integrated directly on the social network.
The launch of Shops is directly linked to the current COVID-19 pandemic and aims to give users the opportunity to buy products directly from brand pages and to increase the interactions of companies that, given the pandemic, have seen much of their revenue reduced.
With lockdowns forcing hundreds of millions of people to stay at home, the addition of a feature like Facebook Shops offers the opportunity to benefit from the vast increase in online shopping that has been occurring in recent months.
How Facebook Shops works
As we said before, Facebook Shops allow companies to create real digital showcases on the social network where companies can host catalogues of their products allowing users to buy them directly on Facebook..
Shops can be accessed from the Facebook Page or the Instagram profile of a company, but also from stories or advertisements.
Once in the shop, people can browse the entire collection of products, add the desired to the shopping cart and place an order.
In Shops, people can send a message to a company via WhatsApp, Messenger or Instagram Direct to ask questions, get assistance, monitor deliveries and much more.
Facebook Shop also provides merchants with all the analytics of the shop in a very simple and intuitive dashboard.
The merchant will have the opportunity to find out more about the performance of their shop in general or by product, by displaying the statistical data in the "Sales Manager" section.
The statistical data you will be able to analyse will include metrics such as content views and click on the website.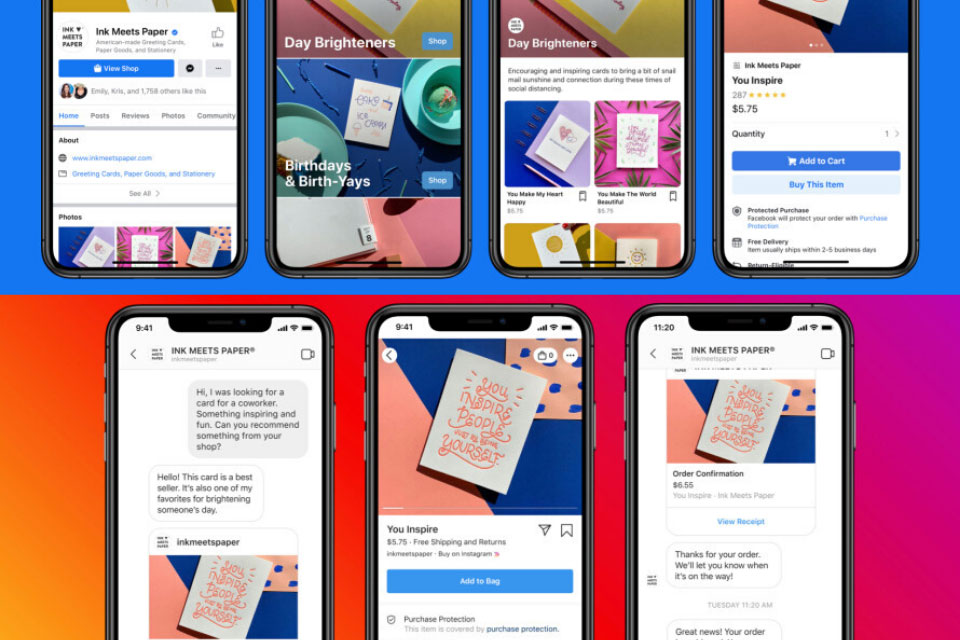 Is Facebook Shop free?
Absolutely yes.
Facebook Shops are free for any business. Anyone can create, browse and use the Shops for free.
There is a small processing fee for merchants who use the Facebook checkout functions to process payment.
Of course, the company also expects that companies will purchase Facebook ads to help drive traffic to their new stores.
How does Facebook Shops checkout work?
As already mentioned, the merchant will have the possibility to choose two types of checkout:
Directly on Facebook
Rerouting the user to the company's website
Facebook Checkout
Considering the Facebook checkout, the social network has been implementing a new feature called Facebook Pay for about a year now.
This function will allow you to save your payment information securely to make payments directly on Facebook, Instagram, Messenger and Whatsapp.
The Facebook Pay service is similar to Venmo, Google Wallet and Apple Pay and allows users to transfer money directly from their bank account or credit card.
It is also accepted as payment on Facebook Marketplace. However, Facebook Pay has no costs and does not store money in an online account.
The function is in roll-out phase and will arrive in Italy in the coming months.
Another payment method similar to Facebook Pay and recently introduced by the Zuckerberg team is Whatsapp Pay, a new payment method with which you can send and receive money directly in the app. The latter is also being rolled out, for the moment only in Brazil.
Whatsapp Pay and Facebook Pay are just the latest innovations introduced by the giant. If you want to stay up to date we suggest you to follow us on Our Facebook page where we publish all the news and important changes that are implemented every day in the world of social networks.
Redirecting to the company's website
The second checkout method that Facebook has made available to merchants in Facebook Shops is the redirection to the company's website.
This function guarantees merchants a significant increase in their website traffic, allowing users to complete their purchase directly on the brand's website and, in this way, also to discover more and more products that they might be interested in and that may not have been included in the Facebook Shop catalogue.
Facebook Shops: a new way to sell online
Facebook has connected billions of people around the world for over 15 years now.
With the creation of Facebook Shops you can understand that the core business of the social network has not changed, it has simply introduced an eye to the companies that are now present on the social network.
In these difficult times, the purpose of Facebook is to facilitate the adaptation of small businesses to this new reality and help people to easily discover and buy the products they love.
Thanks to Facebook Shops, the retailer will be able to create a shopping experience right where people want to shop, making shopping easy, immersive, comfortable and safe.
Regardless of whether a company has just made the transition to online sales or already has an established online presence, Facebook Shops can offer plenty of business opportunities and can help people enjoy an online shopping experience with your brand.
We hope this article has helped you understand how Facebook Shops works and, in case something is not completely clear to you, feel free to contact us and ask us for more information.
Contact us through the dedicated page or fill out the form with your request.