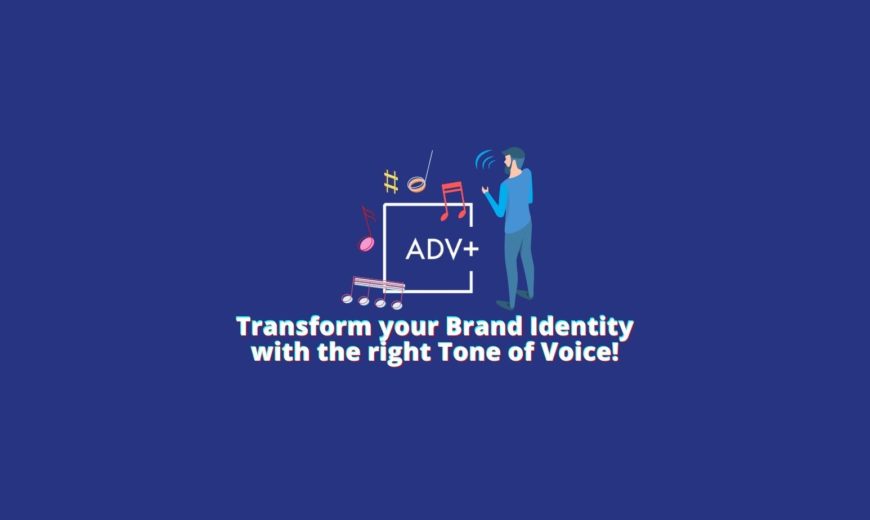 One of the fundamental moments in the construction of your Brand Identity concerns the definition of the Tone of Voice.
In this article, we will explain to you what we refer to when we talk about the Tone of Voice of a Brand, in strategic communication.
We will see together the techniques to define it and reach your audience by learning to communicate faithfully to your values ​​and ambitions.
Let's start!
What is the Tone of Voice
By "Tone of Voice" we mean the trait that characterizes the personality of your Brand and that defines, in consequence, all of your online communication actions.
Just like anyone, your Brand has its personality with both the product or service it offers and the people it addresses. He will therefore assume a particular, coherent and above all recognizable attitude (or tone) in addressing his interlocutors.
Sometimes in digital, we make the mistake of considering the Tone of Voice only for what concerns the text content. In reality, the TOV defines all the contents of your online communication: from the copy of your posts on social networks to the Call To Action on your website, from the graphics to the way you write the weekly newsletter. 
It is no coincidence that the definition of the TOV is part of the preliminary strategic moment of building your Brand Identity. So before you even start promoting your product or service online (or at a later stage of redefining your Brand), take a moment to reflect on it.
How to define the Tone of Voice that best suits your Brand
The main goal is to create consistency.
Consistency between your products and digital communication and between digital communication and your target audience.
Your Brand's Tone of Voice must represent the exact synthesis between the way you want to communicate and what your potential customers expect to hear. 
Unfortunately, there is no single or definitive way to assume the right TOV but, rather, a series of techniques that you can implement on several fronts.
1. Ask yourself who you are
The simplest and most authentic way to start defining a Brand Identity is to start from its history.
Is it a family business tied to tradition or does it place itself on the market innovative and competitive?
Do you offer a prestigious product or affordable for everyone?
What style does he embody or what image does he want to propose of itself?
It seems like an exercise in style but try to imagine your brand as if it were a person. How would he present himself to others?
And remember that today users no longer stop just at the product. They want to know the story behind a company, its roots, its values. Working on your Brand Storytelling you can't go wrong. 
2. Involve Your Team
Much of what a company is, depends on who works there. There will be a reason if you have chosen certain collaborators and you feel comfortable developing the project together with them. Your team is a great resource that needs to be exploited.
Organize Brainstorming meetings to discuss the content to be created for your digital communication and take note of each proposal. Involving everyone in the creative process will help you in defining not only the editorial plan (which we have already talked about here) but also in the best way to address your audience.
3. Create an Expression Protocol
When you start to have some ideas (effective CTAs, idioms, adjectives, presentation schemes) organize everything into a ready-to-use protocol. So, in case of doubts or creative blocks (they can happen more often than we think!) You will always have a guide to solving the problem.
Another effective way to proceed is to always keep a Style Guide at hand, in which to collect all the information on the personality of your brand and its visual identity. (We will come back to this later this month.. keep following our blog if you are interested in the topic!)
4. Keep your Target in mind
Last but not least, always keep in mind who you are addressing. If you have filled in your Buyer Personas, you will already have an idea of ​​your ideal customers. 
How old are they?
What interests do they have?
How do you think it would be more right to turn to them to get attention?
The analysis phase of the Target is fundamental in defining the right Tone of Voice. It is a present moment from the beginning of the process but be careful that it does not become all-encompassing. By building a Brand Identity only according to the target audience you could risk distorting your project and, consequently, the products or services you promote on the market!
Look for harmony between who you are and your audience.
5. Use tried and tested techniques!
In Digital Marketing, there are several well-established techniques to help you define the Tone of Voice for your Brand. 
Here we propose the one conceived by Valentina Falcinelli, copywriter and CEO of Pannamontata, who in her book "Texts that speaking", distinguishes 4 types of Tone of Voice: 
cold tones (bureaucratic; institutional);
neutral tones (professional; dreamlike);
warm tones (colloquial; friendly);
coloured tones (ironic; aggressive)
In combination she proposes her idea of ​​representing the Tone of Voice as a thermometer: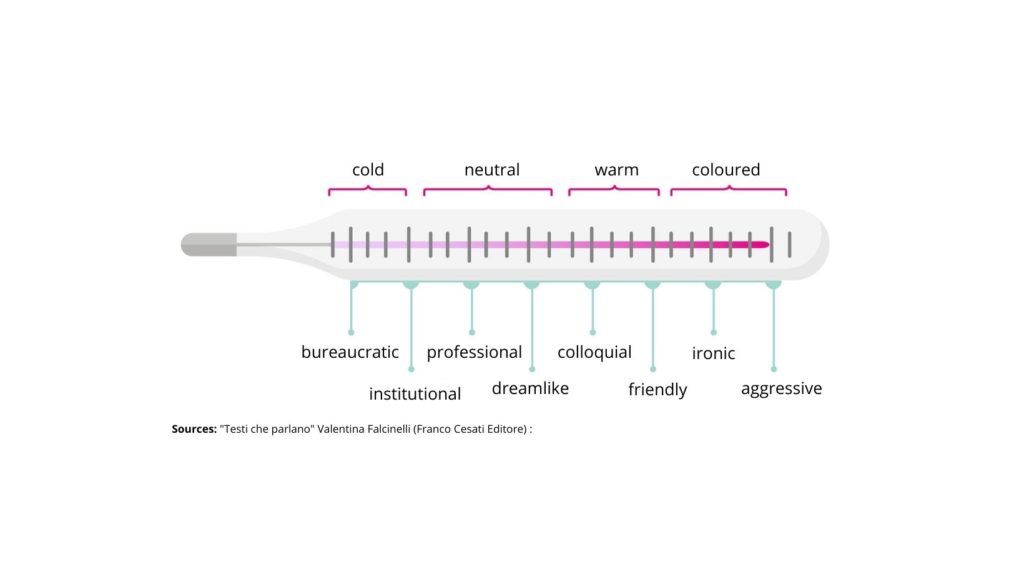 The advantages of having a perfect Tone of Voice
An adequate and consistent Tone of Voice with your Brand and your product can make a difference in the relationship with your customers.
Makes you:
recognizable: on the market and different from your competitors;
reliable: closer to the needs of your customers;
engaging: more capable of creating interaction with your content.
What are you waiting for? Now it's up to you!
What is the Right Tone of Voice for your brand?
Let us know or contact us if you need assistance with your specific case!