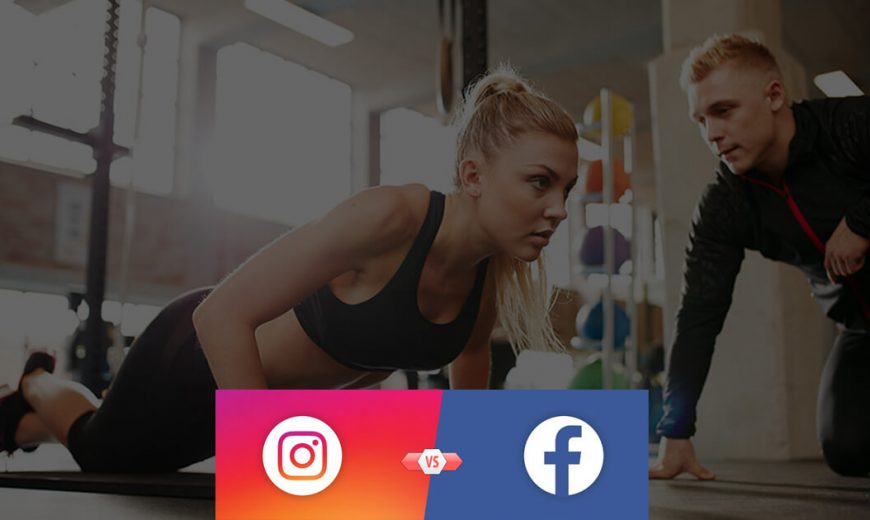 It has never been easier to advertise online as a personal trainer or promote your gym as it is today.
Social media provides all fitness professionals with an outlet to promote their business, build relationships and establish their credibility.
In this article, we're going to see how to leverage Facebook and Instagram to grow the online presence of your personal trainer business or gym using both paid and organic strategies.
Facebook and Instagram Marketing for gyms and personal trainers
Real content and Social Proof
The first step is to always use real content. One thing you must always do is to avoid having untrue stock images of our business on your Facebook or Instagram profile.
Stock images are not good for gyms and personal trainers at all because our potential customers really want to see what you are able to offer and, more often than not, images taken from the internet fail to fully convey our capabilities.
We must arm ourselves with good will and try to provide our customers with images that are able to make them understand what we can offer them: equipment of our gym, results obtained and much more.
When a person arrives on your social page, he absolutely wants to find out what you can do for them and what you have already managed to achieve for other people.
Only in this way will you be able to stand out on social networks and attract more and more people.
Convey value to users
The most important thing when you decide to advertise your personal trainer business or your gym is to convey value to your target audience.
This is true whether you decide to start an activity on Facebook or Instagram.
Teach them something they don't know by solving their doubts, answering questions that haunt them, and providing ideas that can help them.
The value consists in taking the user from point A to point B, communicating a message totally unrelated to any sales dynamic.
In this way you will be able to convince them that by relying on you they will be able to obtain the results they so long for and the sale will be consequent.
Facebook ADS and Lead Generation
Facebook ads are a form of disruptive advertising, which means that these ads put your business in front of people in your target demographic who aren't necessarily looking for a gym or personal trainer by the time they see yours. ad.
Most gyms and personal trainers are quick to place an announcement right away as they think doing so will definitely increase gym or class memberships. The thing that escapes him, however, is to have a clear goal in mind.
Some examples of potential goals could be:
Build your email list of potential customers by signing up for a newsletter or downloading a freebie
Offer people a 7-day free trial
Having a single goal in mind will help you plan your ad effectively.
Always have one clear call to action because having more than one offer will destroy your results and confuse users.
Have a unique offer in advertising for your gym
A unique offering is something that a potential new customer is sure to be attracted to.
Three things are needed to make this offer possible:
A highly targeted audience
Giving away something that feels high value
Have a form of scarcity / urgency
In the field of fitness, you have a large market to turn to: fitness enthusiasts, college students, working parents, and so on.
However, when building your ad, you need to focus on one group.
Building an ad for a college student would be different than building an ad for a mom.
We must then be able to make our target perceive the value of our offer, make them understand that what we are giving them cannot be found anywhere else.
Last but not least, our offer must convey a kind of feeling of scarcity and / or urgency. In this way, the user who views it will be more inclined to be more interested because he will be aware of the fact that this offer will not be available for much longer.
The importance of the Facebook Pixel for our Ads
Another step not to be underestimated is the Facebook Pixel.
If you intend to undertake an advertising activity on Facebook, you must absolutely think about installing the Facebook Pixel on the website of your business.
Why?
The Facebook Pixel allows you to automatically create a personalized audience of users who have visited and / or taken specific actions on your website (e.g., filled out a registration form, visited a product page, etc.)
These audiences can then be used to create highly segmented retargeting lists that will convert twice as much as a campaign created from scratch where the user has no idea what brand they are viewing.
Why aren't Google Ads campaigns enough?
Unlike Facebook Ads which, as we said earlier, are a form of disruptive advertising, Google Ads are a form of reactive advertising.
You bid on keywords that you want your business to appear in search results, and users see these ads when they search for that particular keyword.
Ads on Google can be great when people are intentionally searching for your service and Google Ads allow you to be at the top of the search results.
But what about all the people who don't think actively about your service and who could still benefit from what you have to offer?
This is where Facebook Ads comes in. Ads on Facebook allow you to appear to a much larger target of people than Google Ads.
These people may not even know at that moment that they need you, but if you are able to structure an attractive offer for the user, they will certainly not miss it.
Stories and Storytelling on Instagram
On Instagram Stories, you can share photos and videos that disappear after 24 hours. Since Instagram Stories is temporary, it gives you a fantastic digital storytelling opportunity.
With Instagram Stories, you can share behind-the-scenes and real-world content that tells a compelling story of everything that's happening in your company.
Since this is real, in-the-moment content, you can be yourself and be authentic. This is extremely pleasing to the Instagram community which is a community that craves authenticity.
In this way you will be able to convey your values and cornerstones to your audience and you will be able to conquer more and more people, increasing your authority in the sector and consequently increasing the sales of your products and / or services.
Facebook and Instagram for gyms and personal trainers: do you understand why it is important?
We have come to the end of this article. We hope that it has been of help to you and that you have been able to understand why a gym or a personal trainer absolutely cannot leave out social networks like Facebook and Instagram if they want to improve their business.
We at ADV + are able to do this and more, if you think you need help with your gym or your personal trainer business, do not hesitate to contact us!
Contact us through the dedicated page or fill out the form with your request.